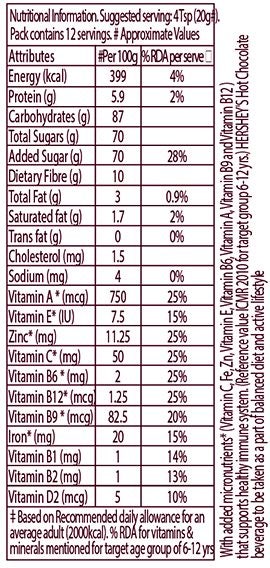 Enjoy cafe-like experience at home with HERSHEY'S HOT CHOCOLATE. Savor it the way you like it - hot or cold!

Sugar, Cocoa Solids(29%) and added Vitamins and Minerals [Vitamin C (Ascorbic acid), Iron (Ferric Pyrophosphate), Zinc (Zinc sulphate), Vitamin E (Acetate), Vitamin B6 (Pyridoxine), Vitamin B1 (Thiamine Chloride hydrochloride),Vitamin B2(Riboflavin), Vitamin A (Acetate), Vitamin B9 (Folic Acid), Vitamin D2 (Ergocalciferol) and Vitamin B12 (Cyanocobalamin)]

-
Vegetarian Product.

The green filled circle inside the green outlined square is the Indian vegetarian mark denoting that this product contains no meat or egg sources. This is a 100% vegetarian product.