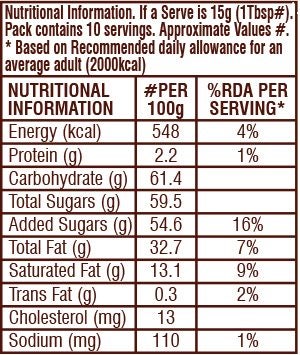 Bite into amazing chocolatey taste and goodness of real almonds with HERSHEY'S SPREADS Cocoa with Almond.

Sugar. Edible Vegetable Oil (Palm Oil), Milk Solids, Cocoa Solids (4.7%), Almond Paste (3.0%), Hydrogenated Vegetable Fat (Palm Oil & Sesame Oil), Emulsifier 322(i), Flavors (Artificial Flavoring Substances - Almond and Vanilla) and Edible Common Salt.

Contains Milk, Soy and Nut. May contain Wheat.

Vegetarian Product.

The green filled circle inside the green outlined square is the Indian vegetarian mark denoting that this product contains no meat or egg sources. This is a 100% vegetarian product.