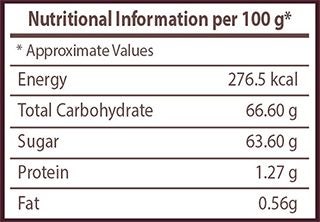 A classic, rich chocolate flavor that goes brilliantly with everything! HERSHEY'S Chocolate Flavored SYRUP is the perfect partner for your snacking ventures. Add the chocolatey twist to every sweet dish.
Sugar, Water, Invert Sugar, Liquid Glucose, Cocoa Solids (5%), Malt Extract, Thickening Agent (415), Preservative (202) and Edible Common Salt.
Vegetarian Product

The green filled circle inside the green outlined square is the Indian vegetarian mark denoting that this product contains no meat or egg sources. This is a 100% vegetarian product.
Explore Delicious and Fun Recipe Ideas