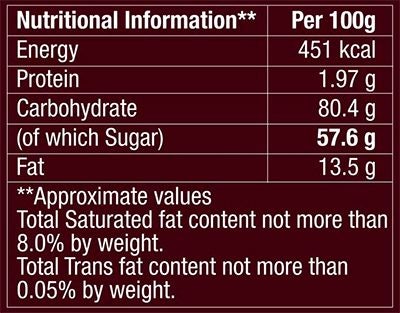 Enjoy HERSHEY'S EXOTIC DARK that is deliciously crafted with an intriguing combination of smooth, dark cocoa rich chocolate and exotic fruit flavors like Raspberry & Goji.

Center (55%): Sugar, Liquid Glucose, Fruit Pulp (10.1%) (Papaya (9.7%), Raspberry (0.2%), Gojiberry( 0.2%)), Stabilisers (440,414,331(iii)), Acidulant (296). Chocolate (45%) : Sugar, Cocoa solids (29.4%), Cocoa butter, Milk solids, Antioxidant (322(i)), Edible common salt, Stabiliser (1400) and Glazing agent (904)
Vegetarian Product


The green filled circle inside the green outlined square is the Indian vegetarian mark denoting that this product contains no meat or egg sources. This is a 100% vegetarian product.